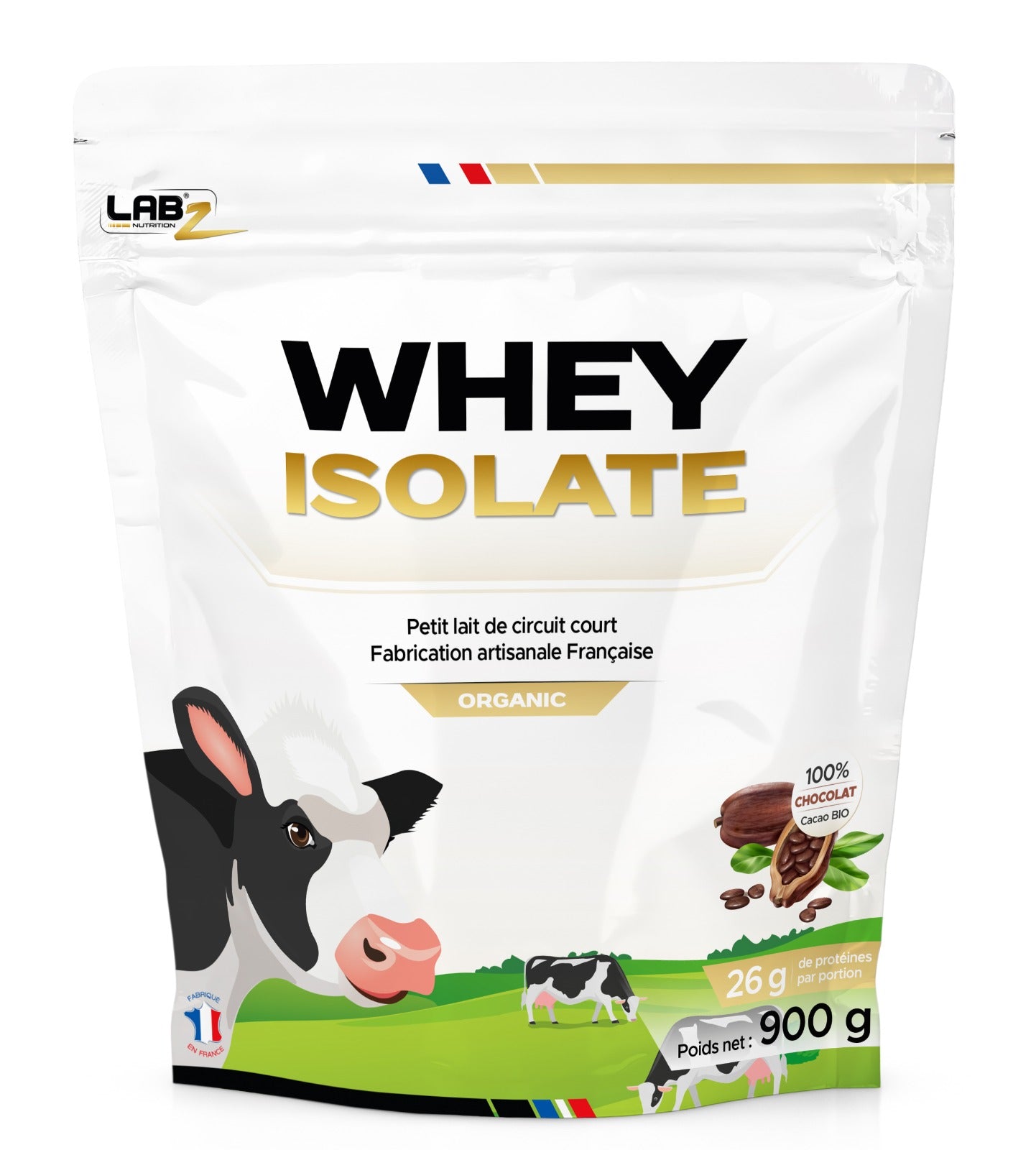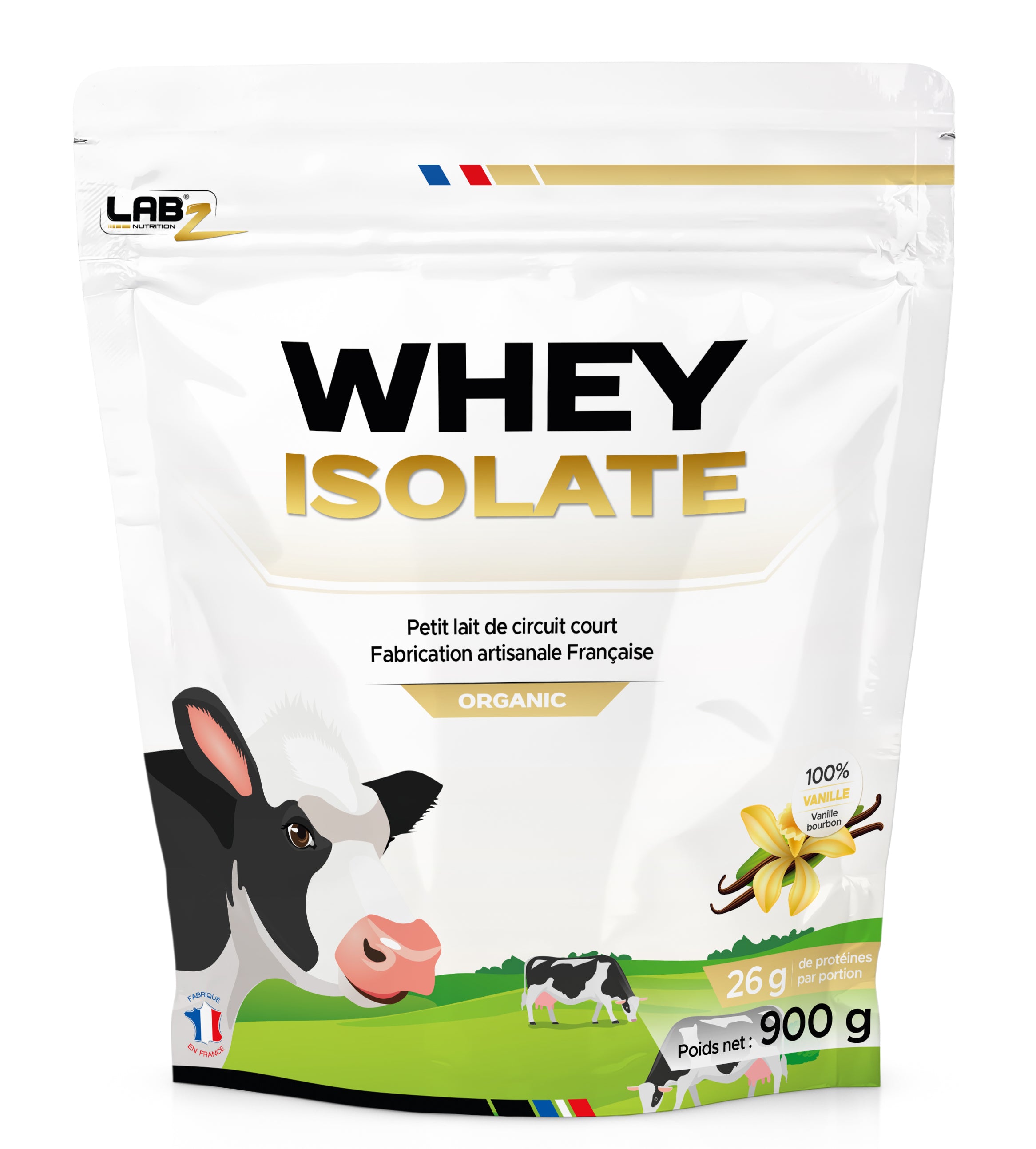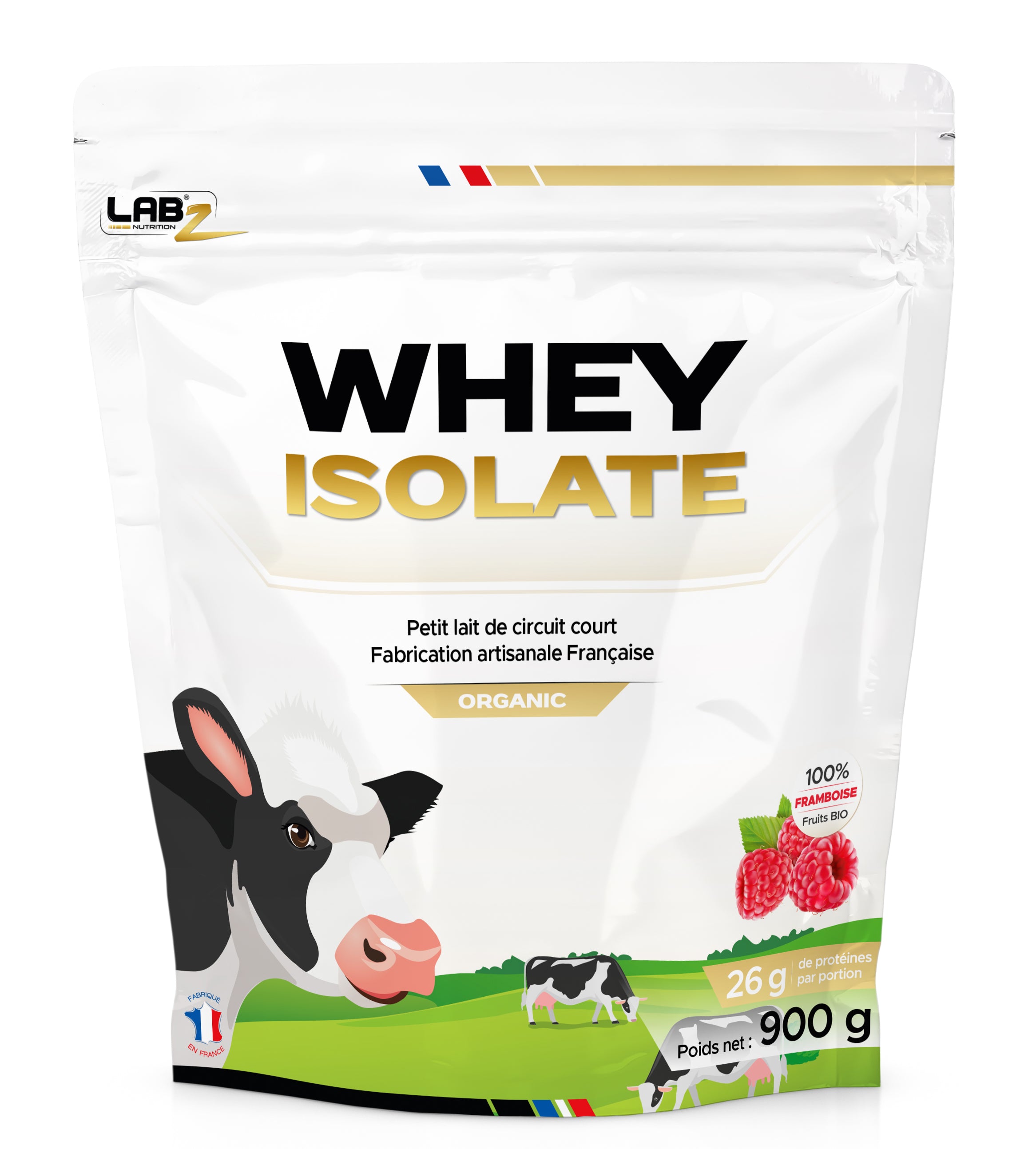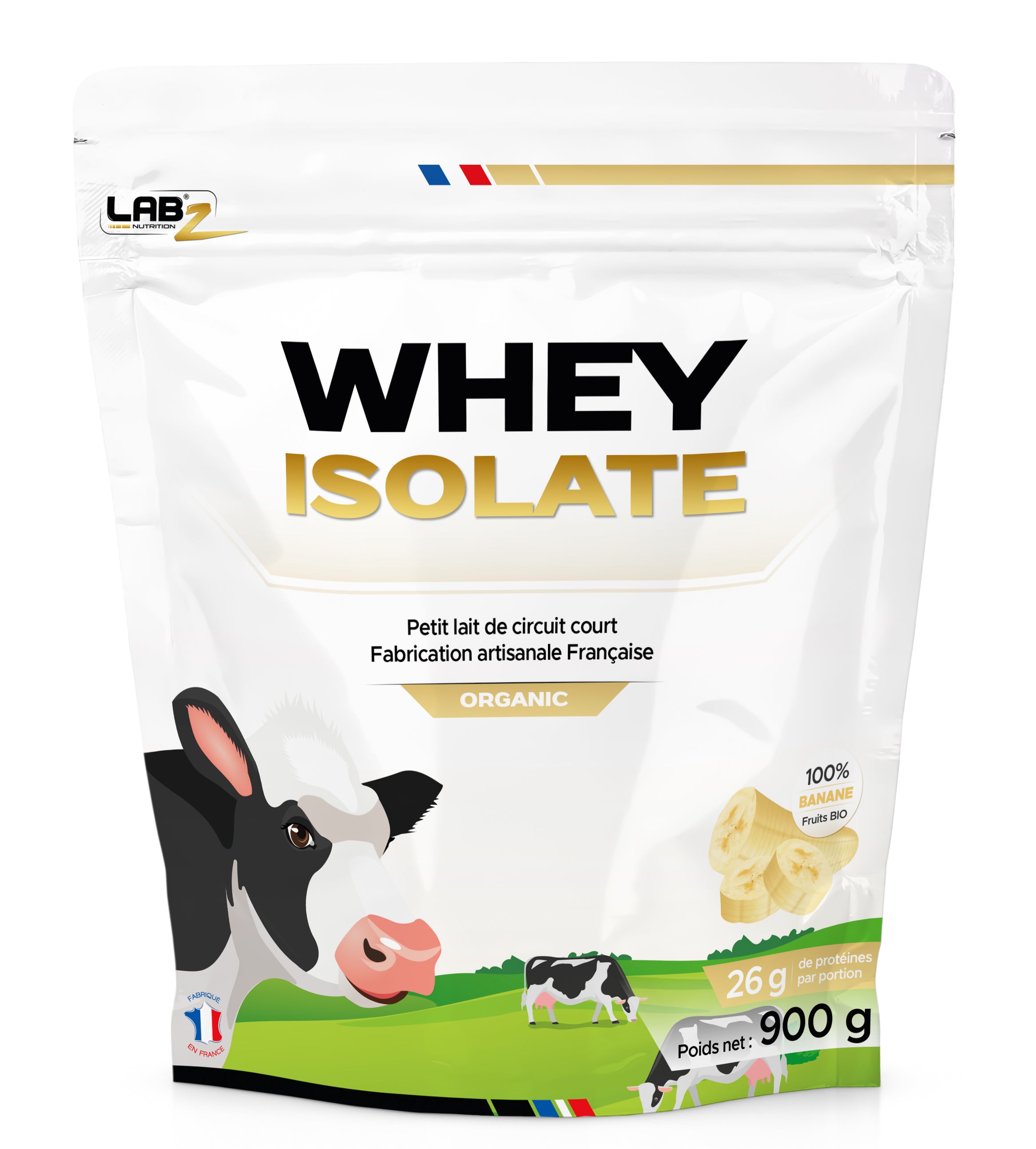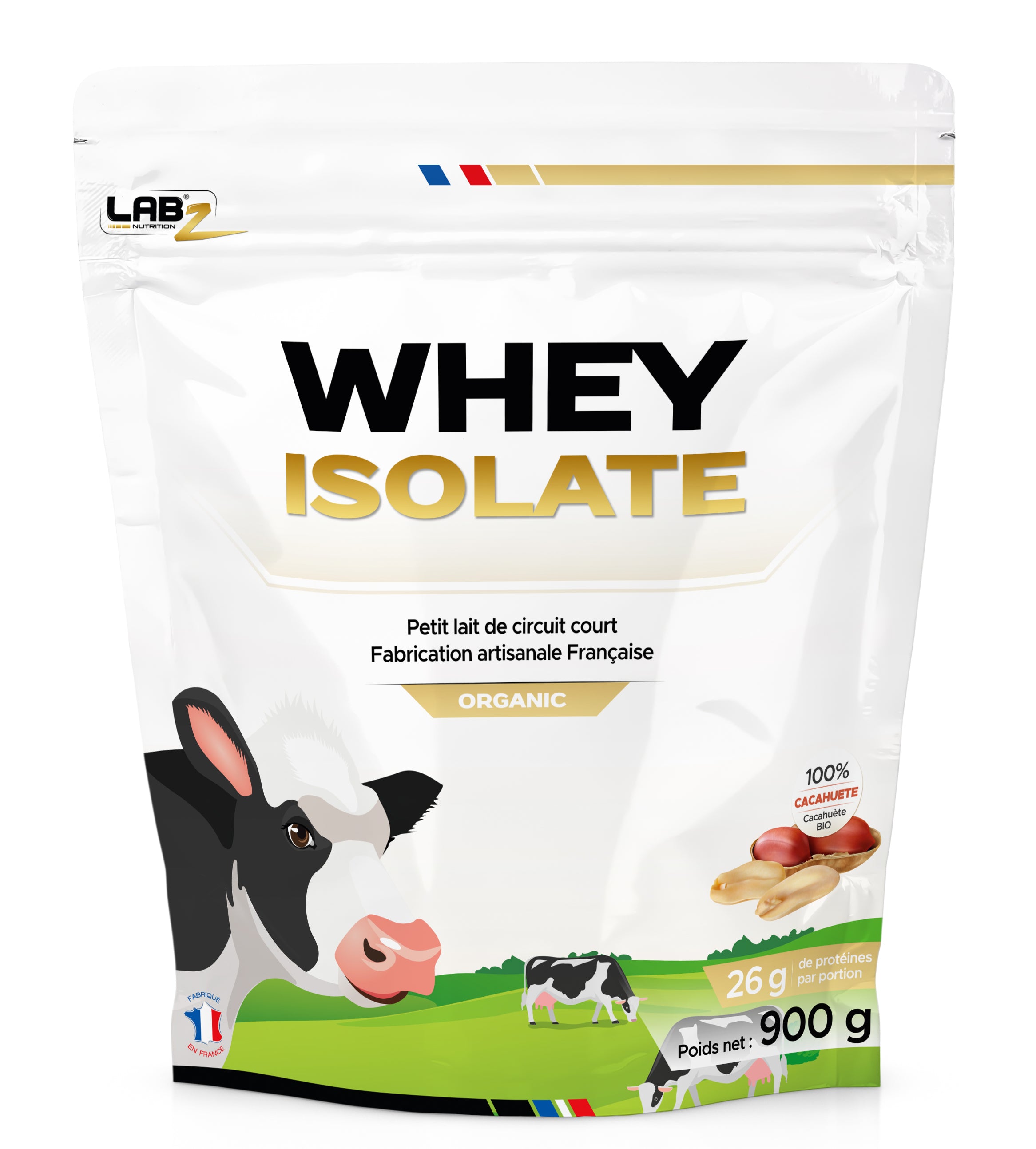 Organic Whey Isolate - Labz-Nutrition 900g
Regular price

Sale price

45,90 €

Unit price

per
Christmas Limited Edition: Chaï Latte Flavor!
Whey isolate WPI (native whey isolate)
Small organic short circuit milk (50km)
French artisanal manufacturing
100% natural flavors from raw food
Perfect digestion
Lactose free
100% recyclable bag
10 customers are viewing this product
The quality French artisanal whey that combines natural and raw flavors in a recyclable bag.
INCOMPARABLE QUALITY
Derived from organic whey, our whey isolate is harvested within a radius of 50km from the place of production, in the Grand-Est of France. The cows are fed with grass from untreated meadows and organic fodder.
The whey is then transformed by a qualified craftsman guaranteeing high quality with authentic know-how. Lactose is in traces in our Whey Isolate, no more digestion problems after drinking your protein shake.
NATURAL FLAVORS
The different flavors (peanut, bourbon vanilla, raspberry, banana and chocolate) are made from real foods. There are no artificial flavors or flavor enhancers. You will find a light and authentic flavor.
L'ANSES (agence nationale de sécurité sanitaire de l'alimentation, de l'environnement et du travail) reconnait aux protéines les allégations de santé suivante :
contribuent à augmenter la masse musculaire ;

contribuent au maintien de la masse musculaire ;

et contribuent au maintien d'une ossature normale.
D'autre part, de nombreuses études scientifiques ont étudié le rôle de la whey sur :
le renforcement de l'immunité innée [1],[2] ;

la sensation de satiété [3] ;

et la réduction de l'exposition au glucose après les repas [4].
Saveur Chocolat : WPI90*(isolat natif de petit-lait 90%), poudre de cacao*(13-14%).
Édulcorant : sucralose
Saveur Vanille Bourbon : WPI90*(isolat natif de petit-lait 90%), Extrait de vanille bourbon (0,3%), graisse de coco.
Édulcorant : sucralose
Saveur Framboise Bio : WPI90*(isolat natif de petit-lait 90%), Framboise* 100% fruit (7%), graisse de coco, Acérola (100% Fruit).
Édulcorant : sucralose
Saveur Banane Bio : WPI90*(isolat natif de petit-lait 90%), Banane*100% fruit (12%). Édulcorant : sucralose
Saveur Cacahuète Bio : WPI90*(isolat natif de petit-lait 90%), Poudre de cacahuète* (14%), graisse de coco.
Édulcorant : sucralose
* Issu de l'agriculture biologique
Conseil d'utilisation
Nous vous recommandons de consommer notre Whey Isolate par dose de 30g avec 150 à 200ml d'eau fraiche ou de lait, 1 à 3 fois par jour en fonction de vos besoins.
Les moments clés : Petit déjeuner, avant/après l'entrainement
Il existe également plein d'autre façon d'utiliser notre sublime Whey Isolate : pancake, crêpe, smoothie, gâteau, crème de riz, fromage blanc, etc.
Selon la dose recommandée (30g) ce sachet de 900g contient donc 30 doses de 30g.
Avertissements : Ne pas dépasser la dose journalière recommandée. Ne doit pas être utilisé comme substitut à une alimentation variée. Une alimentation variée et équilibrée et un mode de vie sain sont importants. Tenir hors de portée des enfants de moins de trois ans. Conserver dans un endroit frais et sec, à température ambiante.
Ps : Ce produit contient du lactose, même à l'état de traces, il est donc déconseillé pour les personnes allergiques au lactose. Ne pas confondre allergies et intolérances.
Les protéines ont été définies comme étant des macromolécules biologiques présentes dans toutes les cellules vivantes. Les protéines libèrent 4kcal/g et représentent environ 15 à 25% de notre apport énergétique journalier. Essentielles, les protéines ont un rôle dans la construction musculaire, mais sont surtout la base de notre organisme : protéines de structure (collagène…), protéines contractiles (myosines…), protéines de transport (albumine…), protéines immunitaires (immunoglobulines), protéines enzymatiques, hormones, récepteurs, etc. Elles sont fondamentales pour notre organisme. Les protéines sont constituées d'acides aminés formant ainsi une chaine dite polypeptidique.
Les acides aminés : Ce sont des molécules qui entrent dans la composition des protéines grâce à leur assemblage par des liaisons que l'on appelle peptidiques. Il existe une centaine d'acides aminés, mais seuls 22 sont codés par le génome des organismes vivants.
Chaque acide aminé confère à la protéine des propriétés chimiques spécifiques, et l'ordre d'assemblage lui donne une fonction bien précise. Les acides aminés essentiels (EAA) que le corps ne peut pas synthétiser sont : leucine, l'isoleucine, lysine, phénylalanine, méthionine, thréonine, tryptophane et valine chez l'adulte ; en plus il y a l'arginine et l'histidine chez l'enfant.
Derrière le terme BCAA il y a en réalité des acides aminés dits « branchés » dont la leucine, l'isoleucine et la valine. Ils sont branchés et essentiels, c'est pour cela qu'on les retrouve dans les compléments à la fois estampillé « EAA » ou « BCAA ».
Le besoin en protéines
Les protéines sont nécessaires à la croissance et à l'entretien des tissus. Les besoins en protéines de votre corps dépendent de votre état de santé et de votre niveau d'activité.
Ainsi, il a été défini les apports suivants :
➱ Pour les personnes sédentaires : Un apport de 0,8g par kilo de poids corporel par jour (0,8/kg/pdc/j)
➱ Pour les personnes âgées ou enceintes : 0,8 à 1.1g/kg/pdc/j
➱ Pour les personnes sportives : 1,2 à 1,8g/kg/pdc/j
➱ Pour les femmes allaitantes : 1g à 1,2g/kg/pdc/j
Contrairement à la croyance populaire, les protéines ne sont pas essentielles que pour les sportifs. Elles le sont pour tout le monde !
Protéines & Réactions biochimiques
Les enzymes sont des protéines qui facilitent les milliers de réactions biochimiques qui ont lieu à l'intérieur et à l'extérieur des cellules. La structure des enzymes leur permet de se combiner avec d'autres molécules à l'intérieur de la cellule, appelées substrats, qui catalysent des réactions essentielles à votre métabolisme.
Les enzymes peuvent également fonctionner en dehors de la cellule, comme les enzymes digestives telles que la lactase et la sucrase, qui aident à digérer le sucre. Certaines enzymes ont besoin d'autres molécules, comme des vitamines ou des minéraux, pour que la réaction ait lieu.
Les fonctions corporelles qui dépendent des enzymes comprennent :
➱ La digestion
➱ La production d'énergie
➱ La coagulation du sang
➱ La contraction musculaire.
L'absence ou le mauvais fonctionnement de ces enzymes peut entraîner des maladies.
Les protéines agissent comme un messager
Certaines protéines sont des hormones, c'est-à-dire des messagers chimiques qui facilitent la communication entre vos cellules, tissus et organes.
Elles sont fabriquées et sécrétées par des glandes ou des tissus endocriniens, puis transportées par le sang jusqu'aux tissus ou organes cibles où elles se lient à des récepteurs protéiques à la surface des cellules.
Les hormones peuvent être regroupées en trois grandes catégories :
➱ Les protéines et les peptides : Elles sont constituées de chaînes d'acides aminés, allant de quelques-uns à plusieurs centaines.
➱ Les stéroïdes : Ils sont fabriqués à partir de la graisse cholestérol. Les hormones sexuelles, la testostérone et les œstrogènes, sont à base de stéroïdes.
➱ Amines : Elles sont fabriquées à partir des acides aminés individuels tryptophane ou tyrosine, qui contribuent à la fabrication des hormones liées au sommeil et au métabolisme.
Les protéines et les polypeptides constituent la plupart des hormones de votre corps.
En voici quelques exemples :
➱ L'insuline : Signale l'absorption du glucose ou du sucre dans la cellule.
➱ Glucagon : Signale la dégradation du glucose stocké dans le foie.
➱ HGH (hormone de croissance humaine) : Stimule la croissance de divers tissus, dont les os.
➱ ADH (hormone antidiurétique) : Indique aux reins de réabsorber l'eau.
➱ ACTH (hormone adrénocorticotrope) : Stimule la libération de cortisol, un facteur clé du métabolisme.
Les autres rôles des protéines
◈ Certaines protéines transportent les nutriments dans tout le corps, tandis que d'autres les stockent.
◈ Les protéines forment des anticorps pour protéger votre corps contre les envahisseurs étrangers, tels que les bactéries et les virus responsables de maladies.
◈ Les protéines présentes dans votre sang maintiennent l'équilibre des fluides entre votre sang et les tissus environnants.
◈ Les protéines agissent comme un système tampon, aidant votre organisme à maintenir des valeurs de pH correctes dans le sang et les autres fluides corporels.
◈ Une catégorie de protéines, appelées protéines fibreuses, confèrent à diverses parties de votre corps structure, résistance et élasticité.
◈ Les protéines peuvent servir de source d'énergie précieuse, mais uniquement dans les situations de jeûne, d'exercice intensif ou d'apport calorique insuffisant.
Sources :
[1] Rusu D, Drouin R, Pouliot Y, Gauthier S, Poubelle PE. A bovine whey protein extract can enhance innate immunity by priming normal human blood neutrophils. J Nutr. 2009 Feb;139(2):386-93. doi: 10.3945/jn.108.098459. Epub 2008 Dec 23. PMID: 19106313.
[2] Y. F. Moreno, V. C. Sgarbieri, M. N. da Silva, AADC Toro, M. M. S. Vilela, Features of Whey Protein Concentrate Supplementation in Children with Rapidly Progressive HIV Infection, Journal of Tropical Pediatrics, Volume 52, Issue 1, February 2006, Pages 34–38.
[3] Pal S, Ellis V. The acute effects of four protein meals on insulin, glucose, appetite and energy intake in lean men. Br J Nutr. 2010 Oct;104(8):1241-8. doi: 10.1017/S0007114510001911. Epub 2010 May 11. PMID: 20456814.
[4] Frid AH, Nilsson M, Holst JJ, Björck IM. Effect of whey on blood glucose and insulin responses to composite breakfast and lunch meals in type 2 diabetic subjects. Am J Clin Nutr. 2005 Jul;82(1):69-75. doi: 10.1093/ajcn.82.1.69. PMID: 16002802.
La meilleure Whey du marché !!
Bio, Circuit court, français, une vrai bonne whey isolate, je la recommande fortement. Trois ingrédients rien de plus !! (isolat natif de Petit lait + poudre de cacao bio + édulcorant) un vrai bon produit sans triche encore une fois bravo labz 🫶elle est trop bonne 🤤🤤🤤 À bientôt pour la prochaine commande
Meilleur whey ever
Salut à tous, j'avais déjà tester plusieurs whey au paravant sans jamais avoir trouver celle qui me donnais envie d'en reprendre. Toujours dès ballonnements ou pas de résultat je ne pourrais pas l'expliquer. Mais la whey de Labznutrition ma redonner l'envie d'en reprendre et de kiffer mes shakers chaque matin. Que ce soit le goût chocolat ou vanille les goûts sont incroyable. Merci a eux pour la qualité de leurs produits. Je recommande fort !
Excellent
Je comprends le prix. Whey tres agreable a prendre et a digerer. Gout de qualite !
Que du bon
Très peu d'ingrédients, beaucoup de goût.