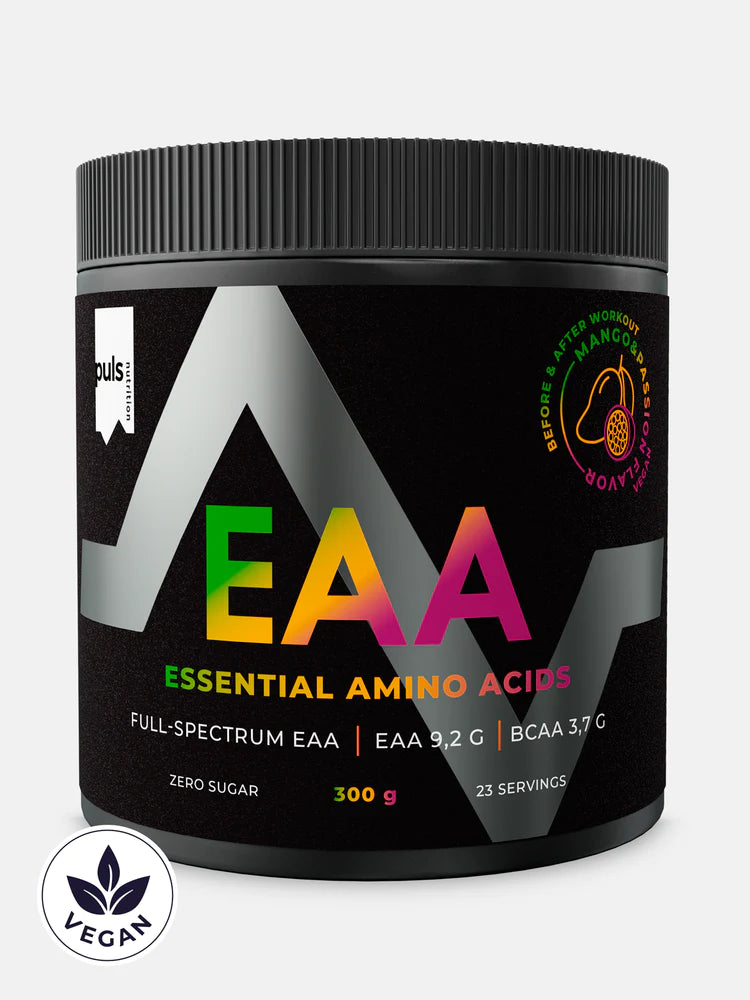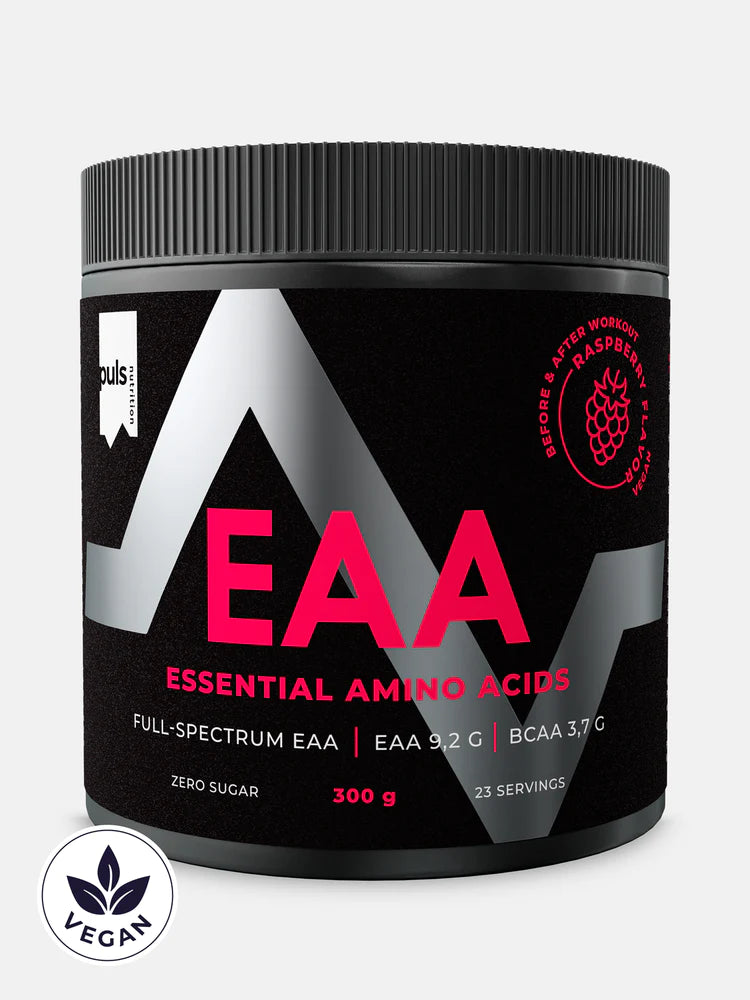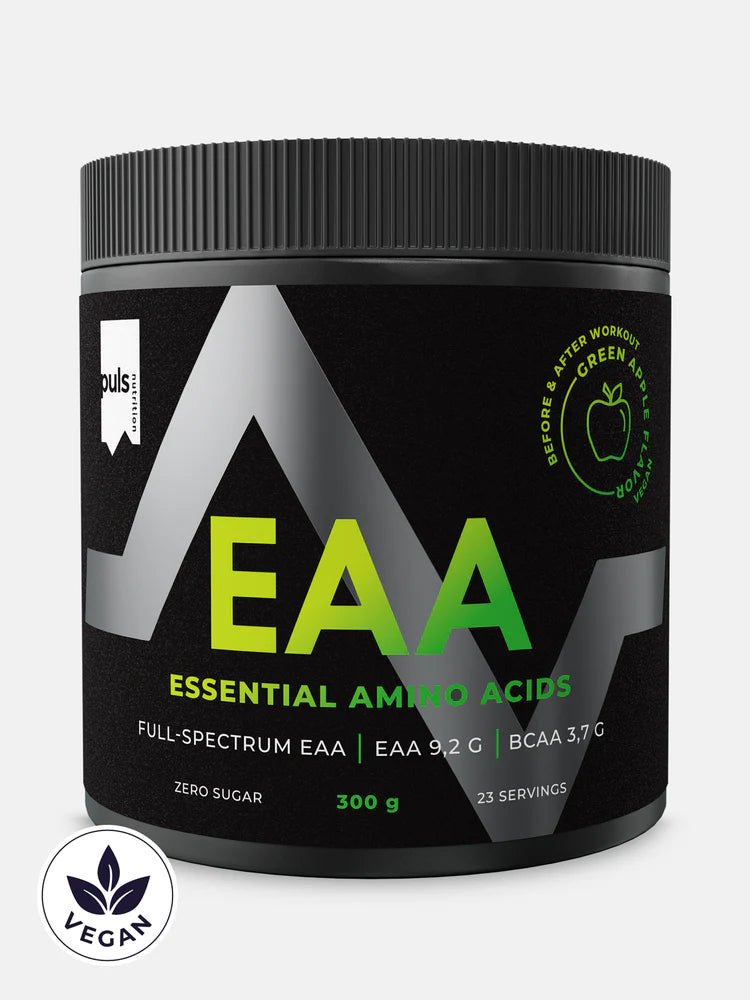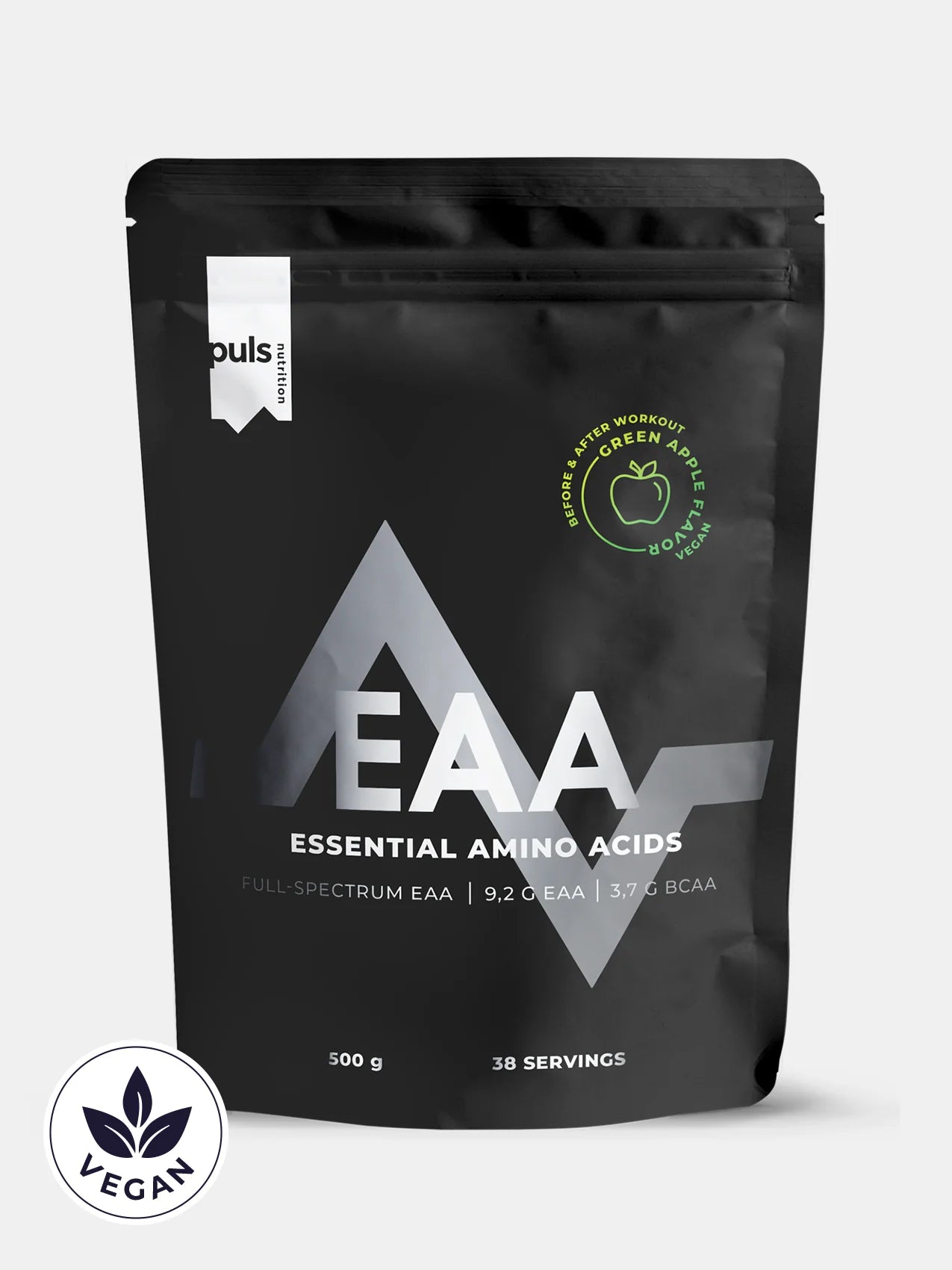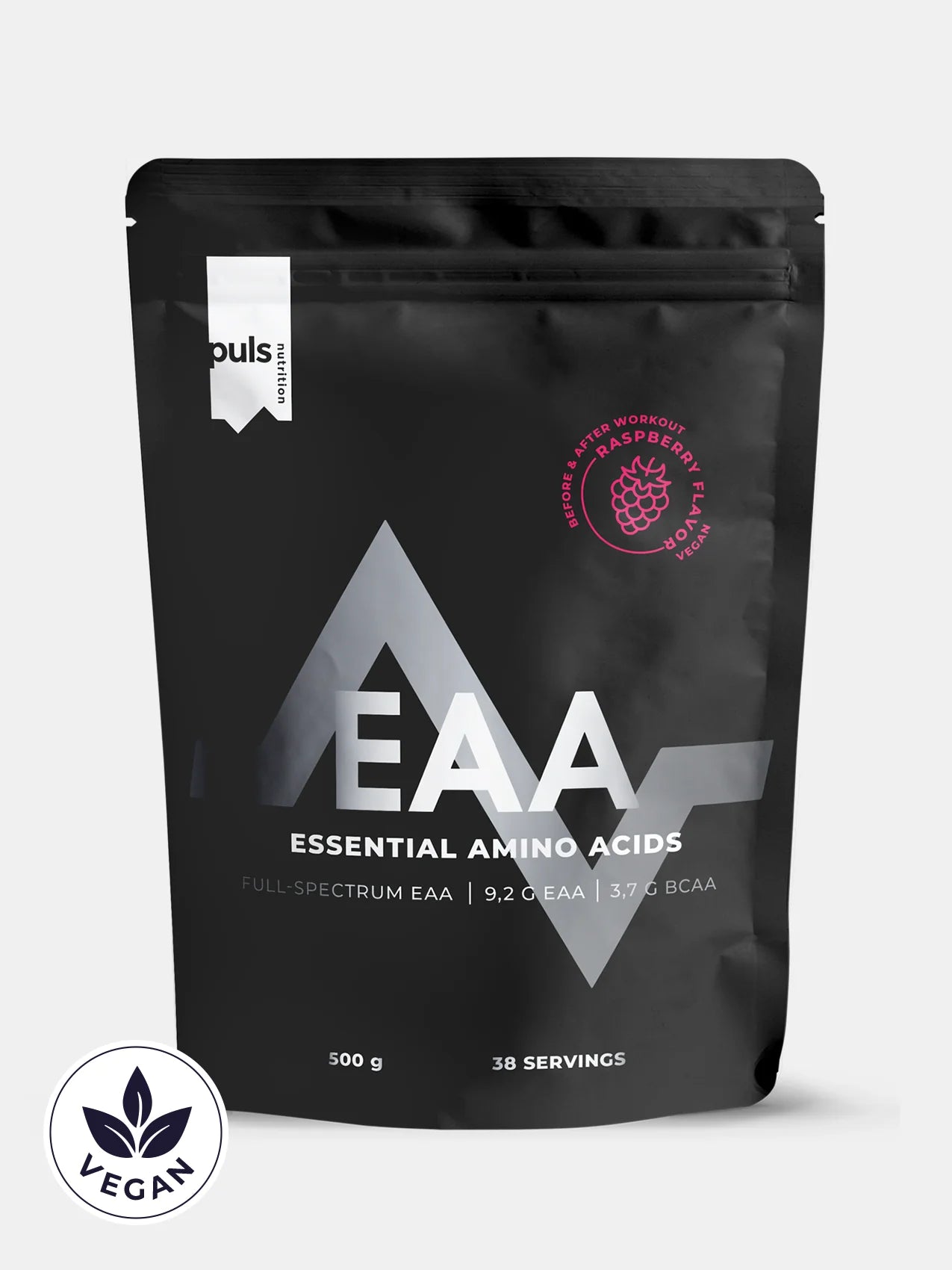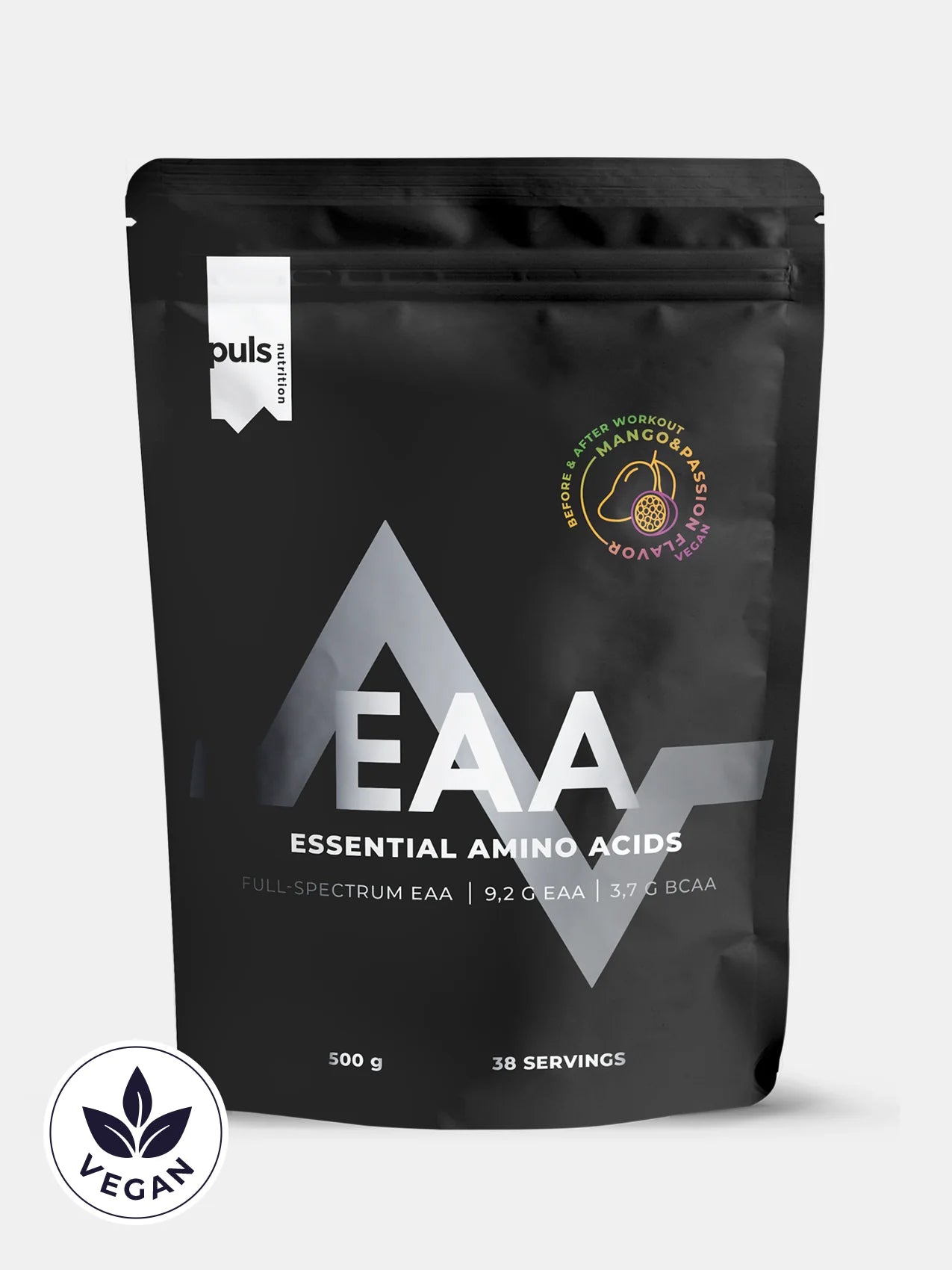 EAA 300g - Puls Nutrition
Regular price

Sale price

27,90 €

Unit price

per
Acides aminés essentiels non synthétisés par le corps
EAA issus de fermentation végétale
Saveurs délicieuses et originales
Idéal avant / pendant / après votre entrainement
10 customers are viewing this product
Product Description

Essential amino acids are building blocks of proteins. They are "essential" because the body cannot synthesize them.
They must be obtained from food or via supplementation.
EAA stands for Essential Amino Acids or Essential Amino Acids, and includes the nine amino acids essential to the human body:
Amino acids are the building blocks of proteins, so they are essential when body cannot produce them on its own and that we must obtain them through food.
These amino acids are important for various physiological functions such as growth, development and maintenance of the body and are necessary to maintain muscle.
Therefore, EAA supplementation for muscle mass gain is very popular with athletes. In addition, in the context of diets and definition phases, an adequate supply of essential amino acids and high-quality proteins is also important to deal with muscle catabolism (degradation).
Composition

Amino acids form the building blocks of protein, much like bricks to build a house. They help build and maintain muscle mass. Their role is beneficial in the success of your physical goals, since maintaining your muscles is crucial in order to progress, whether you want to gain mass or lose weight.
How to obtain these famous amino acids?
These nine essential amino acids must be provided by food. The most common sources are: meat, poultry and eggs or via supplementation.
Thus, it can be difficult for vegan dieters to get enough amino acids through their diet.
EAAs (essential amino acids), are also for people who struggle to consume enough protein every day:
➻ People who don't have time to eat
➻ People who travel
➻ Skinny people who have trouble gaining weight
➻ Vegans
➻ People in the cutting phase who want to keep as much muscle mass as possible
➻ People who can't stand protein powder
➻ People with a reduced appetite .
EAAs from fermentation
The EAAs in Puls are from fermentation. The fermentation process breaks down protein and turns it into amino acids.
It is therefore not made from animal tissue such as feathers etc.
In amino acid fermentation, amino acids are made by fermenting ingredients with microorganisms (like probiotic bacteria).
These microorganisms transform the ingredients into food and other substances that the microorganisms need. In fermentation, ingredients such as molasses are added to a medium that cultivates microorganisms.
It helps microorganisms multiply and make amino acids. Microorganisms contain enzymes that speed up reactions to break down and synthesize new substances. The fermentation process is a series of reactions involving around 10 to 30 types of enzymes.
Nutritional Information and Ingredients


Review of our professionals

Coach's opinion

The EAAs are a supplement that I systematically give to all my students/athletes.
EAAs keep amino acids in the blood stable during your workouts and allow your muscles to use them when they need them most, which is after training.

@tristank_coaching
Dosage
Je trouve que la Scoup, est trop grande, parfois on ne veut pas un dosage entier mais plutôt la moitié avant et puis l'autre après la seance, sa serait mieux d'avoir une plus petite, en revanche le produit est très bien
Super bon
Des EAA hyper solubles et très bons gustativement
EAA goût cerise
Très bon produit, complet et goût cerise excellent !
Excellent
Super goût très bon produit